My self built road bike
By Elvis on 02/25/2017.
Bike tags: Road bike | custom bike | custom steel frame | self built bike
Click to view other photos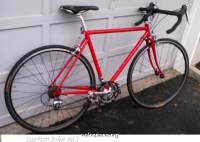 lugged steel frame I built, 2017
Built this with the help of my friend who runs a bike shop. I brazed the frame he did the fork (I wasn't sure I was good enuff for that). Lugged steel. Fastback stays but attached to the sides of the seattube not the back, in order to give clearance for wider tires. Pictured with normal road tires but could fit up to 32mms, which is also the reason for the old school centerpulls.
Mongrel parts group, compact 36/50 up front, 9 speed rear with Shimano Tiagra shifters.