Rolling Conceptual Art in the Style of Post-Armageddon Retro
By Sarge on 06/12/2007.
Bike tags: Fixed gear | Single speed | Road bike | Commuter | Touring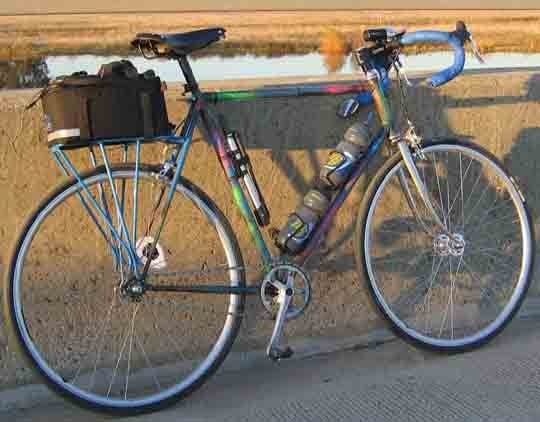 Click to view other photos

Ritchey WCS, Profile, Fuji

Sakae Signature, Shimano UN-54
This Bike was painted by my first grade students. I gave each one a turn with a can of spray paint and their choice of color. Afterwards, I clearcoated the frame and then the students helped me with the build. This is the second such project I've done. See "Fixed Gear Build and Painted By First Graders" for more details.
Most recently, I have it set up as a fixed gear commuter with drop bars, a rack, a light etc. I've put about 1700 miles on it so far, all fixed gear with my longest commutes up to 40 miles round trip.