Roadmaster Scorcher single-speed conversion (Laura's bike)
By notjason on 10/18/2009.
Bike tags: Single speed | Road bike | Commuter | cheap | conversion | garbage-picked | Roadmaster | scorcher | ten-speed |
Click to view other photos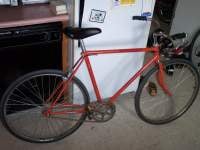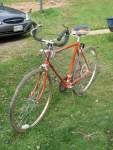 1985 Roadmaster 10-Speed Scorcher

Bars from a broken Columbia 3-speed, stock stem

stock wheel / bell tire / redished with 17t freewheel

stock cotter crank with new pins, inner chainring removed.

before you say anything, this bike was subsequently equipped with a front brake, after I smartened up and admitted to myself that front-brakes are good.
Roadmaster made a lugged frame? Who knew? My dad found this bike at the trash dump. I converted it to single-speed and rode it around for a few months before eventually selling it to my friend Laura. I loved this bike, but it was just slightly too small for me.