Surly Disc Check "Monster Trucker"
By Gyeswho on 03/07/2009.
Bike tags: Fixed gear | Single speed | Commuter | Brooks | commuter | crosscheck | surly | utilitarian | Cyclocross |
Click to view other photos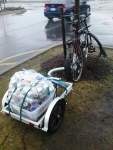 Dimension Cyclocross Disk, Cane Creek S3

32h Salso Delgado/ Shimano XTR disk/Panaracer Pasela TG 35mm

32h Salso Delgado/ Formula/Panaracer Pasela TG 35mm | Freewheel = Alex wheel

Brooks Swallow/Ritchey Comp

Mongoose w/ Reload straps, KMC 710

Paul Thumbie, Shimano Tiagra

Avid Single Digit 7 V brake and Avid BB7 Disc

Cetma Rack, Freewheel = 36/24 x 11-34 cassette
I sold the IRO for this because this did naturally what I modified the IRO to do. It's a stout frame and I love the amount of versatility it packs. Skinny, big, medium, it doesn't matter, it can do a lot! I have fun with it :) I'll probably add the rack to it later;)
I had fun making the mudflaps. I don't like water bottle holders on the frame when riding fixed because it's easier to reach behind than below when your legs are constantly moving so that's why I have the water holders on the back.
BTW: The pic with the HEDs was a joke and not a serious setup.
Added the disk fork to really make it good for the wet weather
* Added racks and riser to make it an all around hauler. I love this bike
* Gave it gears in order to fully assign it hauling duties. It rides very well and the Paul Thumbies are very useful.