SOLD: Surly Long Haul Trucker, 62cm
By jan nikolajsen on 10/08/2008.
Bike tags: Road bike | Commuter | barcon | Brooks | century | fenders | for sale | for trade | randonneur | road bike | surly long haul trucker | touring | Touring |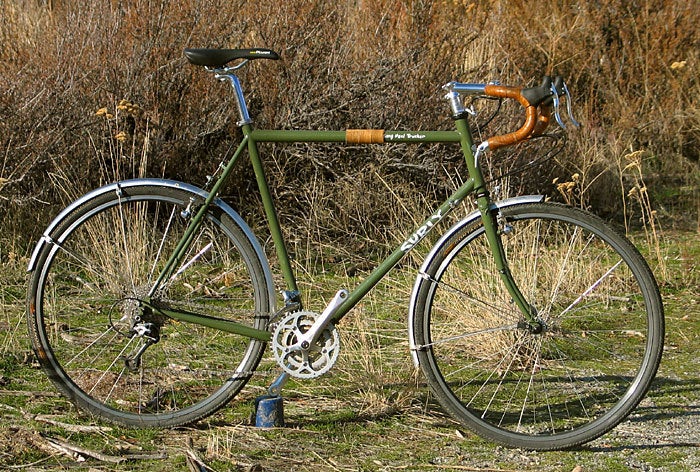 Click to view other photos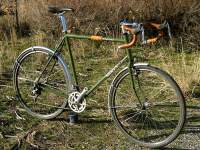 surly long haul trucker 62cm, proprietary 4130 cro-moly tubing TIG welded

bars: stock, unmarked, wide + big. stem: 65mm dimension 115 degree

surly lugged cro-moly, ritchey

deore xt hub, 36 hole, alex adventurer black rim

deore xt hub, 36 hole, alex adventurer black rim

sugino xd600, 48-36-26, shimano BB

brooks b17, shimano 600AX post, 27.2

deore xt RD, tiagra FD, shimano casette 9-speed. 11-13-15-17-20-23-26-30-34t, tektro canti brakes
Update December 2008: SOLD! I have a 62cm Long Haul Trucker, complete, stock, from May of 2008. It was my reintroduction to biking after a hiatus of two decades. When I bought it, it was just right: languid, comfortable, predictable. Now, 2300 miles later (1600 on the LHT) a few things have changed. First off, I'm possessed by the vintage bike bug, effectively excluding the Surly from my field of interest. Secondly, I'm in far better shape at this point, and enjoy riding faster than this touring setup allows. So, the Trucker will be up for grabs, exactly as pictured, meaning fully stock, as the day I picked it up at the LBS. That said, it does include a few extras: 45mm fenders, shellac'ed cork bar tape and an extra stem, lots of spacers and a steering column extender. The fork/steerer is also uncut, so together with the accessories it gives you the option of a customized, upright position.
Condition is good to excellent. Stored inside since day one, no falls, no crashes. A little dusty from dirt road rides. The powdercoat is intact, except for some localized abrasions on headtube and seat cluster from carrying some lumber back from town.
The original receipt can be included on request.
Price is 750 plus shipping for the complete bike, or 325 for the frame, fork and headset plus shipping. best to email me: jan'at'coyotecottage'dot'com
here are some entries i made on the LHT/cross check forum:
April 28, 2008:
Got a 62 cm complete LHT today from the LBS, my first new bike
purchase in over 20 years. Here's my initial impression and other
tidbits for potential owners.
I used to be a component snob and avid road biker, a long time ago.
Only Italian parts, only Columbus tubing, fast and light. No more, I
should say. My mid-eighties Cannondale alu MTB have been the commuter
companion for a while, but to feed the barely suppressed gearhead in
me I recently decided to get something else.
Why the Surly? Well, the price is right. In fact you get a lot for
your money. But so is the case at Wal Mart. Ideally I would have had
the huge cash outtake needed for something really special, like a Riv
or another semi custom beauty, but alas, could not justify such
extravagance. Research into the various other options, thru my LBS and
the internet, led me to believe that the Long Haul Trucker would have
the geometry for comfortably eating up the miles, enough of a classic
look and feel to satisfy my stylistic requirements and be of
sufficient quality to last the next 20 years. This search for a new
long distance capable commuter revealed very few rivals to the LHT. In
the end there was simply no second choice!
This morning Sonja dropped my off at Methow Cycle & Sport where the
olive green LHT was waiting. I brought with me some pedals and my
favorite saddle, paid the bill and took off to work. Spokes were
settling with loud creaks and the clean and shiny drive train was
emitting sounds I haven't heard from a bike in decades.
62 cm frame, the biggest one available for the LHT. My pubic bone
height is 93 cm, I'm 6' 2", 185 lbs. My preferred riding height, crank
center to saddle top is 82-83 cm. How does that match up?
Well, properly adjusted I got the proverbial fist full of saddle post
showing. So far, so good. The fork, presumably uncut, is stacked full
of spacers with the 40 degree stem on top, leaving the handle bar
about level with the saddle. Definitely not above, if anything
slightly lower. The combined top tube/stem measurement is vast, far
more than my other bikes. What needs to be done, more than likely, for
my frame to successfully mate with this cro-moly one is a shorter
steeper stem, if such a contraption is obtainable. So at least one of
my worries, whether 62 cm would be too small, has been silenced. Stand
over clearance is good.
With all that said, the ride is very comfortable as is. I did 27 miles
with stiff headwinds and it seemed as if it was accomplished with
considerably less effort than using the bike I'm replacing. And that's
a sign of success, if any.
As bicycles go these days, this is not an expensive one. Among the
carbon and titanium and fancy components at the store the LHT was
almost embarrassingly plain. It eluded solidity and practicality, but
also a hint of low-end economy. And there's no hiding it: It is really
nothing too amazing, just a common sense bike with average components.
The frame appears to be acceptably built, with very smooth welds, lots
of braze-ons (couldn't imagine any more for any purpose) and a top
notch paint job. The olive green color is very low key and matter of
fact. Entirely to my liking. Too many decals, though.
The standard components are, to my relatively inexperienced eye,
decent. Nice crank, solid looking Shimano XT hubs, ugly rims and all
black tires. The bar end shifters are a real plus. The gearing is a
multiplicity of possibilities, favoring the lower end of the scale. In
fact, despite the headwind I seldom left the big 48T chain ring. I
have no comments about the stock saddle, since internet warnings
regarding its lack of comfort prompted me to bring my own.
All in all I'm looking forward to tomorrow's commute. Not with the
insatiable, almost juvenile lust for performance and flash bred by a
full on road racer. No won't get that here. But rather with an assured
anticipation of a predictable, smooth ride, completed with minimum
hassle.
May 15, 2008:
So now a few weeks and several hundred miles have passed. Am I still
pleased with my thousand dollar investment? And what have I changed or
modified?
The riding so far have been the same old route to work, 27 miles
roundtrip on moderately hilly county roads, no stop lights, no
traffic. Also I have done some 70+ mile days on mountain dirt roads
and up the rivers around here. Carried the bike a few miles over snow
banks, and skidded thru mud and gravel. Lots of challenges for the new
ride, and even more for the exhausted rider.
I am very pleased with how the bike is outfitted from the factory.
Nothing too fancy, but it all works and seem durable and easy to
maintain. Only an urge to fondle high end components and excessive
cash needing to be spent would prompt any upgrades. Bad reasons, off
course, so we'll let it be. The stock brake pads even are just fine.
I'll let them wear down. As mentioned elsewhere, the stock saddle was
bogus.
After the first mud haul I ordered fenders, SKS 45mm silver.
Inexpensive but very easy to install, and silent. Sure helps keeping
things a little cleaner, but not since my first 'real' bike, a jet
black 1978 Centurion, have I paraded around with such contraptions! In
retrospect even wider ones might have been better, but my internet
purveyor didn't have them.
I am using some old, but well kept Shimano XT pedal with toeclips and
straps. Can't seem to get rid of the need for such a traditional set-
up. Never tried those modern things that clip right onto the sole of
your shoes, and regular pedals w/o clips is just too free and loose
and hippie like. I'm always biking with hiking boots, lightweight ones
at least, but I want to able to walk, and walk comfortably for a long
time when out there.
The rack is a featherlight aluminium thing from the LBS. A mere
cheapo, as opposed to the serious touring stuff people are mounting
left and right here. So I cheaped out, but it held up riding around
the property with my 60 lbs son sitting on it. Should do fine hauling
my lunch box to and fro work.
The long top tube / stem measurement proved a little challenging to
deal with. It just wasn't right. Also I couldn't get the handlebars up
high enough, even with the uncut steerer and that high angle stock
stem. Another slight annoyance was my stem mounted computer: The
viewing angle was wrong so the screen was all fussy and impossible to
see. Yes, yes, look at the damn road instead, you tech weenie. But
still...
So I ordered one of those steerer extensions and a 65 mm stem (short!)
with a moderate 80/110 degree angle, regrettably only available in
black. Now there's quite the stack of spacers and weird components up
there, but things feel right. In the drops I'm about where other
slick, much faster riders are when on the hoods. My hoods though, are
super comfy, long term places to be hanging out. I am not going back
to that original stem!
Link here to pic of new arrangement:
http://coyotecottage.com/images/bike1.jpg
What else?
No matter how I adjust the front derailer I seem to be getting either
chain rub or the occasional, but catastrophic derailing of said chain
when shifting. Minor detail, and mostly an issue when shifting with a
bad chain line, or whatever you call it.
September 27, 2008:
Have had my stock 62cm LHT since May now, with about 1600 miles on it.
It is primarily a commuter, with another, more classy ride reserved
for pure joyrides. Still no mechanical issues, haven't had a wrench to
anything, all components work as if new. The index shifting is spot
on, the drivetrain silent and smooth.
I removed the racks and changed tires to some old 28mm Tour-Guards
recently, since I ride mostly on pavement these days. Our dirt roads
here are loose and incredibly dusty in late summer, and just not worth
it. Inflating the Pana Racers to around 100 psi gives a quick roll,
with little resistance. Actually a big difference from the stock
Conti's.
Did my first 100 mile ride on the LHT a few days ago. 4500' of gain on
an out-and-back route from our cabin, with almost all the climbing in
the last 10 miles to the turn around. Both in terms of horizontal and
vertical distance this was a big milestone ride for me. Not since 1982
have I gone that far. I spent 6h 40m in the saddle, 7h 30m overall,
just barely making it to my son's soccer game at around 80 miles.
Getting back in the saddle again after standing at the sideline for 30
minutes was the crux of the day! Pretty much completely done for at
the end with heavy legs and stiff neck, but the next day I was able to
go do a 5 pitch rock climb without too many pains!
The Brooks B17, now completely broken in, is a non issue. A small
handlebar bag and saddlebag, both homemade, provides plenty of storage
for commuting and long rides. I like the look and style of these two,
compared to rack and pannier. Sleek and classy, with the fenders
coming to their right.